Installing the Org Chart Web Part
Installing the SharePoint Org Chart is a quick process and should be completed in a few minutes. We recommend using the SetUp.exe for installation on SharePoint 2010 Server or SharePoint 2013 Server editions.
The web part is packaged as a standard SharePoint .WSP and this guide walks through the installation process using the setup.bat scripts that are provided in the download package.
The following prerequisites are required:
You must be logged onto the SharePoint server onto which to deploy the org chart.
The logged in account must have administrative permissions.
Download SharePoint Org Chart for your SharePoint solution
First download the installation package from: www.sharepointorgchart.com. Selecting the appropriate download for your version of SharePoint.SharePoint Org Chart is available for SharePoint 2010 Foundation, SharePoint 2010 Server and MOSS2007
Extract the download package
Unzip the downloaded file to a temporary folder on your SharePoint server. In this example the files have been extract to the directory C:\temp. The package consists of three files:
SetUp.Bat - Installs the SharePoint Org Chart feature.
Remove.Bat - Removes the SharePoint Org Chart feature.
SharePointOrgChart.wsp - The SharePoint solution package.
Note: The SetUp.Bat will not run correctly from Windows Explorer
Open the Command Prompt & run setup.bat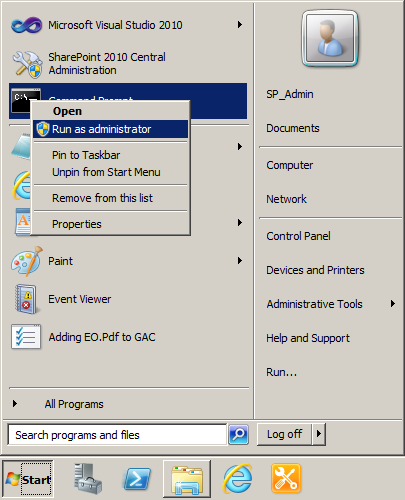 Open a Command Window with administrative rights and use the CD command to change to the directory into which the files were extracted. In this example the command is CD C:\Temp.
Run setup.bat. The installation will take a few moments to complete.
Once the batch file has finished the installation is complete,there are no further steps required.
Confirm the Org Chart deployment was successful
To confirm that the web part has been successfully installed:
Open any web part page in Edit mode.
Look in the Custom Group. Three new web parts should be available:
Org Chart Web Part - displays an Org Chart
Org Chart Panel Web Part - displays extra information
Org Chart Search Web Part - searches the org chart