Printing your Org Chart - Browser
Show Print Chart
To begin a SharePoint Org Chart web part has been configured using a list. See Creating an Organisation Chart from a SharePoint List for details of how to do this.
To enable end users to print turn on the printing option
To do this set the Show Print Chart Button in the Look & Feel property section.
Apply Print Chart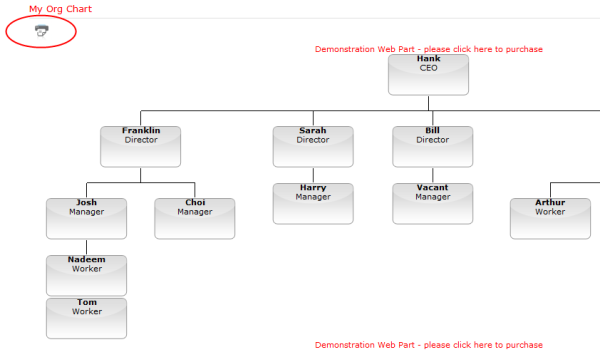 Once the settings have been applied a print button is displayed in the top left hand corner of the organisation chart.
Click the print button
Clicking the print button opens up a new window containing the organisation chart.
The print dialog box is displayed allowing the user to choose the printer and print the chart.
A note about browsers
An important point to note is that by default web browsers will not print background colours or graphics. This results in the printed chart as shown.
Enabling background colours in Internet Explorer
It is possible to enable the background printing of graphics in Internet Explorer. To do this press the alt key then from the File menu access the Page Setup dialog.
Select the Print Background Colors as shown.
Apply and Finish
Now when printing background images are also included.