Using the Search Panel Web Part with the SharePoint Organisation Chart
The OrgChartSearch Web Part is installed as part of the SharePointOrgChart chart package.
OrgChartSearch is a convenient way to allow people to search and quickly navigate to a particular person in an organization chart.
Setting up the OrgChartSearch web part to work with the SharePoint Org Chart is a simple two stage process.
Stage one add the  OrgChartSearch web part to a page
Stage two is connecting the Org Chart to the OrgChartSearch web part
Previous Knowledge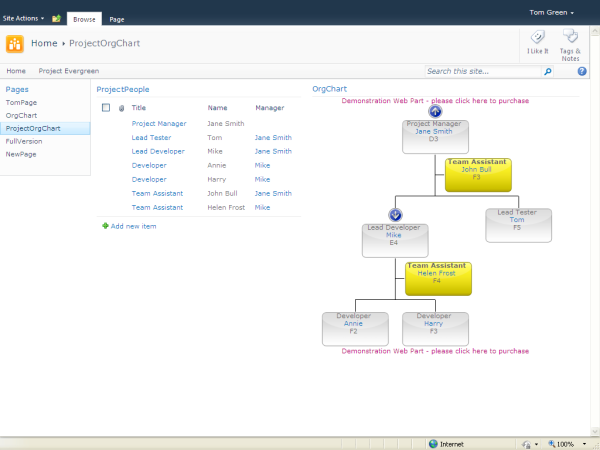 This walk through builds upon the earlier guide Creating An Org Chart From a SharePoint List
Edit the page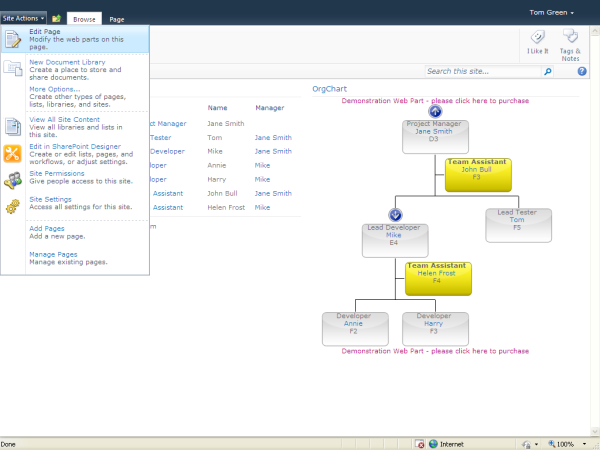 Edit the current page by selecting the Edit Page option from the Site Actions menu located at the top left of the screen.
Add OrgChartSearch to the page.
Add the OrgChartSearch web part to the page. This can be located under the Custom category of web parts.
One selected click the Add button to add the Org Chart Search Web Part to the SharePoint page.
Initial message on load
Once the OrgChartSearch web part is added to a page the message Please connnect this web part to a SharePoint org chart will be displayed
Connect the web part to your Org Chart
Use the Connections menu to connect the OrgChartSearch web part to the SharePoint organisation chart.
If more than one Org Chart is being used on the page then select the appropriate one.
Message on Connection
Once connected the OrgChartPanel will display the message Click here to specify a field to search. Click the link.
Search Options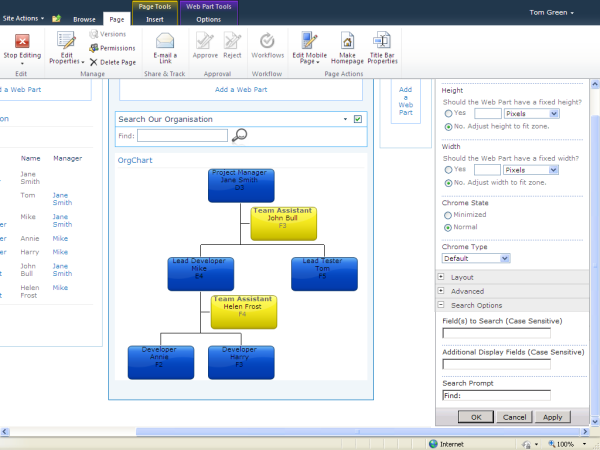 In the Tool pane navigate to the Search options. Expand these options Enter the names of the fields that you wish to be included in the search in a comma separated list. In this example the Name field is being searched.
The Additional Display Fields takes a comma separated list of additional field names to display. If the list contains the a field of the Person data type then additional information can be displayed.
Field_Photo - Displays the photo from the persons mysite
Field_Title - Displays the persons job title
Field_Name - Displays the persons full name
The Search Prompt is the prompt to display before the search box
Completing setup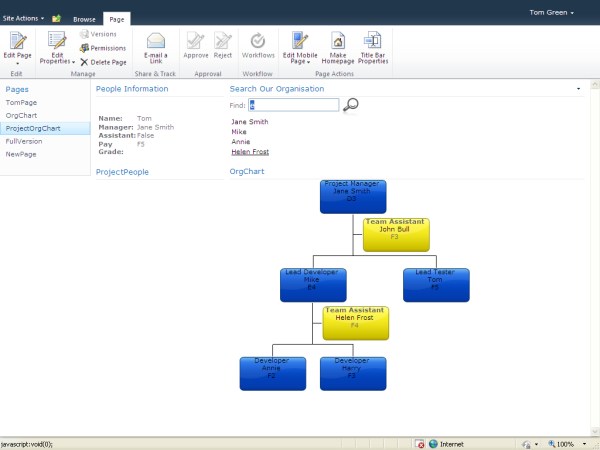 After pressing Apply or Ok the OrgChartPanel is configured. In the example the user entered e in to the Find: text box and has found all names containing an e. Clicking on one of the returned names will navigate straight to that person